Abstract landscapes, a mini-series!
"Life is more manageable when thought of as a scavenger hunt as opposed to a surprise party."
Jimmy Buffett
Continuing to sketch and paint a series of tiny landscapes, curious to find out what is just beyond these paths? It's like there's something in the distance but it is a mystery or a conundrum. So many landscapes this year, all adding up to a mini-series of sorts. Naturally, some turn out better than others! Like I might paint several in a row that just rock and then a slew with questionable gravitational sensibility! I'm sort of all over the map - achieving some interesting color interactions and then just as often docks + fences that look like ladders up to the stars, with baffling perspectives, etc.
I do believe this is a form of riffing, or brainstorming, here's a post on that and the starting point is the concept of a landscape - abstract and not trying to emulate reality, just the ESSENCE of reality. Problems I'm trying to figure out include how to make the sky more or less brilliant? How to portray a sunrise from one side? A sunset? A storm? What could I take on tangents? The type of path, the trees, the layers, the depth, the weather?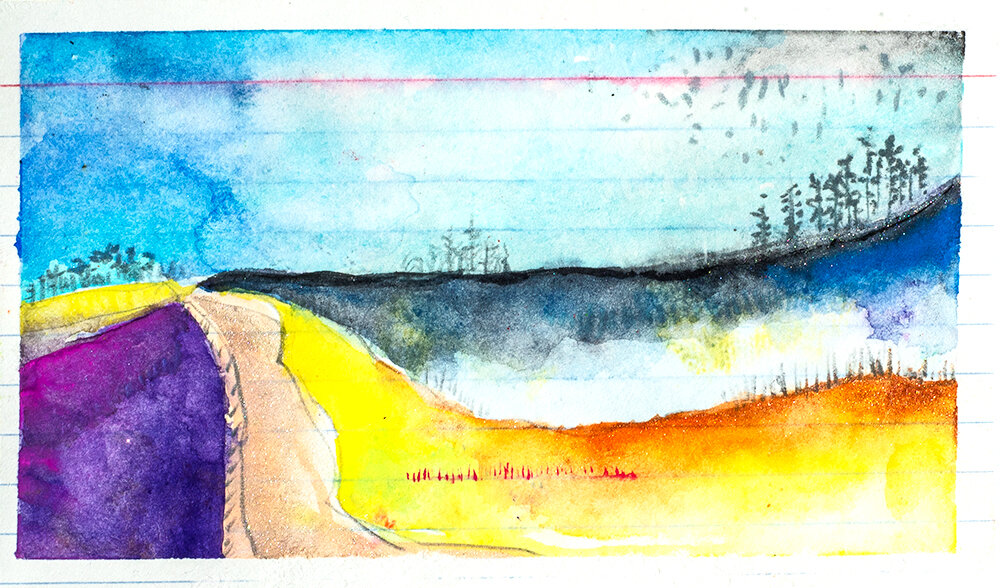 What's the bigger meta story? Maybe we're walking or driving up a hill and the road ahead curves or maybe there is a vanishing point? I want to paint this idea enough to cement it in my mind. Confounded by how to communicate distance, depth, etc. but yet here we are, moving forward even not knowing exactly what I'm doing. You really do not have to know all of the answers before you start. You can figure it out as you go!
Here are some of the small works I've painted, some in ink, some in gouache. Some on index cards, some on squares of watercolor paper.
"Abstract artists tell their stories with shapes, color, edges, movement and value, just like when one is painting a beautiful scene. The difference is, of course, there is no scene. The scene is within the artist."
Gwen Fox
Ink
The first set is from late last year, the tail end of my 365 Somethings project where I went way beyond 365. Before I paint, sometimes I tape off the edges to make a little white frame.
Ink on index cards is always a wild ride - difficult to control - thrilled with these two!
Gouache
Yup, painting directly on the index cards. Isn't it a ridiculous mis-match, the cheap-o paper and the good paints? I learn SO MUCH by trying things in different ways, then my mind takes the results and recycles/funnels the findings to keep learning and growing. What variables are about the paint — and what variables are about the paper? Isn't it good to know? I am using gouache here more like watercolor but that matte texture and slight opacity just make magic. Gouache on 3x5" index cards, painted from the imagination.
Then I went BIG but more muted [which is challenging for me, whose palette is rainbow] on a full page, starting with a soft, kind of patchy, underlayer [applied with a large japanese brush] which was warm on one side and cool on the other. This is on 9x12" Arches watercolor paper in gouache. The bottom photo is the first layer and then I painted the landscape on top. Not loving this patchiness, but this is part of learning and figuring out. Will try this again with softer patches in the first layer. Sometimes you have to take things too far and then adjust accordingly!
And even smaller, tiny 3" squares of watercolor paper! How small can we go with this idea!?!? By the way, you'll find process videos for 3 tiny landscapes [incl. these two] in Creative Nudge Vol 02.
Ink & Cut-Outs
And then I got sort of crafty! What!? For this set, I painted and collaged at the same time — curious to see how the cut-outs would add depth. Cut out some portions and then adhered everything to a fresh index card and painted that index card. So it's a double decker! The first card below - can't tell in the photo but the sky and the red on the lower right quadrant are actually on the background card! Those edges are cool. It felt very crafty and hands-on.
This inked card also has cut-outs. So about half of the card is in the foreground or top layer and half is the background card. I like the depth this creates and the little shadows too, like along the edge of the yellow path. It felt like a construction project!